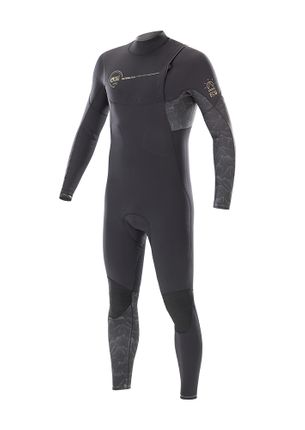 Picture Civic 3/2 Zip Free Wetsuit
Stock Code:
pmvt161blk-xl
or 6 weekly, interest-free payments of $74.83
What's this?
Stock Level
In Stock
In Stock
In Stock
The Civic 3/2 zip free wetsuit is one of the greenest / techiest wetsuit available. Manufactured with sustainable Picture Naturalprene and waterbased Aqua-a™ glue lamination, this wetsuit offers high waterproofness thanks to GBS and fully taped seams. Comfort zones, seamless construction under arms, motion pattern and knee pads provide comfort and freedom of movement.
EicoPrene is a foam material that has the same technical features and profile as conventional neoprene. However, there is nothing conventional about the origins of this new material.
Whereas neoprene is petroleum-based, EicoPrene is made from a mix of limestone (70%) and recycled tires (30%). The interior and exterior fabrics are made with recycled polyamide or recycled polyester. The liner provides warmth and dries quickly, whereas the exterior fabric enhances a wetsuit's hydrophobic properties.
Outside Features.

Zip free.
A new hermetic seal zip free construction using pu grip coating, to give the best waterproofness seal.
Watertight seal.
Elastic wrist to prevent water flushing.
Knee pads.
Durable & high stretched zone thanks to a specific fabric construction, for more durability and comfort.
Glued and blind stitched seams.
Seams are triple glued then blind-stitched with durable nylon thread providing high stretch and limiting water entry.
Embossed flex.
Ergonomic construction behind knees and under arms for more comfort.
Stitching free under arms.
Provides high mobility of the shoulder without any irritation.
Inside Featrues.
Glideskin neck seal
Ultra-smooth liner for more comfort & to prevent water from penetration.
Dry now
A high performance polyester hydrophobic fabric that moves moisture away, dries very fast, insulate better & which enable the wetsuit to be lighter when practicing.
Fully taped seams
Tape is glued to the inside of every seam.
Comfort zone
Twice more thickness to protect your ribs.
Drain holes
To quickly evacuate water.
Motion pattern
Inspired by triathlon' wetsuits construction, allowing a completely free mobility of the shoulders, the motion pattern adapts this smart construction to our zip free and front zip versions.