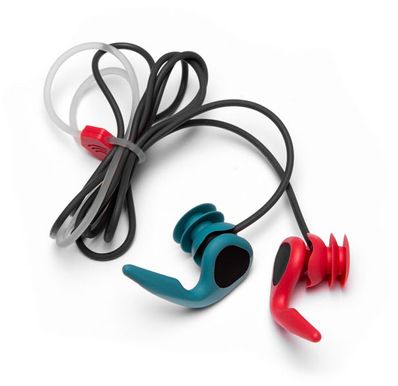 Surfears 3.0
or 6 weekly, interest-free payments of $13.17
What's this?
758576970318
Description
The new, updated ear plug system that protects your ears from cold water, wind and pollution while maximizing sound.
Developed by a team of product designers and dedicated surfers from Sweden. New improved Surf Ears 3.0 now protect your ears better than ever before from cold water, the wind and pollution. They do all this while maximising sound and giving you the closest experience to your natural hearing available on the market.

Balance is essential for most water and board sports, your ability to hear not only effects you balance but also you awareness to what is happening around you in the water. Unfortunately many earplugs out there limit your hearing somewhat. SurfEars were designed to keep the water out but also let the sound in, to enable you to stay connected to the environment.

An update to the very popular original Surf Ears 2.0 - the Surf Ears 3.0 includes the following improvements :
PREMIUM CASE - SurfEars 3.0 comes with a high quality case that helps store the product safely and hygenically. Packaging has been reduced to a bare minimum, recycled content and vegetable based inks have been used for minimal global footprint.
IMPROVED LEASH & COLOUR CODING - Redesigned leash for quicker and easier attachment / detachment. Left and Right plug colour coding for foolproof fitting
BETTER FIT & IMPROVED WATER SEAL - Softer silicone tips, shaped for a better seal and increased comfort. These new silicones are thinner and softer so they can better conform to the shape of your ears.
REINFORCED MESH - New protective rib under the mesh layer of the plug prevents it from being squashed inwards. Meaning that your plugs will last for longer without losing the same great acoustic performance.
WIDER SIZE RANGE - Additional silicons in more sizes (4 in total) means you can further customise the fit of you plugs - meaning they sit more securely with a better seal inside the ear.
DOUBLE CURVED WING & TILTED CORE - New wing is pre-shaped with the right curve (both forward and inwards) to reduce load point. This ensures a more comfortable and secure fit for the wearer. The wings have also been made softer, further improving comfort. The se changes combined with a few other tweaks to the design means that this latest version of SurfEars are the most comfortable & best fitting yet!

Larger Size Range
The newly designed core is slightly smaller which enables us to increase the product's size range without compromising hearing performance. We have added an extra size for the sealing gels for total of four different sizes, and the wings comes in two sizes to ensure a good fit to even the smallest and largest ears.



Increased Life Span
We've introduced a protective rib preventing the mesh from being pushed inwards, while also increasing the mesh's adhesive area. This will reduce the risk of the plugs to wear out when repeatedly pushing o the mesh with fingers when inserting the plugs. The new leash is also redesigned, with loops on each end which makes it more durable compared to previous solution and easier to attach and remove from the plugs. The new leash is thicker which makes it more durable and also less likely to tangle.
Smarter Storage
The best earplugs deserve the best storage. The SurfEars 3.0 silicone case looks amazing and works like a charm and will last for a lifetime.It's made from injection molded, medical grade silicone, has a smooth satin finish and carefully crafted details, like the debossed logos and vent hole pattern on the back. The magnetic closure keeps your plugs safe and makes the case easy to open and close. With the aluminum carabiner you can easily hook them onto your bag or keychain and keep them with you when you need them.
Sustainable Packaging
It's important to showcase the product in a nice way but not at the cost of the environment. The best way to reduce waste in packaging is to minimize the packaging itself. Therefore we are using the storage case as part of the packaging. 3.0 is presented in a stylish yet minimal paper wrapping made from partly recycled material and is fully recyclable. We use vegetable based ink for minimum environmental impact. User instructions are printed on the back for quick access and minimal material usage.