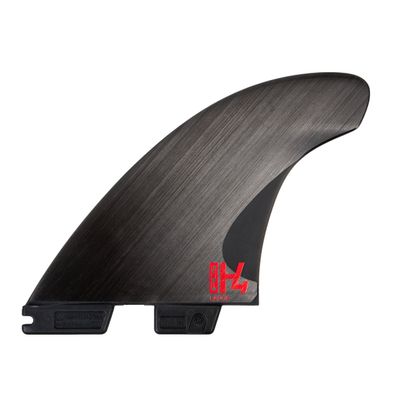 Fcs 2 H4 Thruster Fin Set
Stock Code:
9340935001026
or 6 weekly, interest-free payments of $43.17
What's this?
Stock Level
In Stock
In Stock
The H4 looks and surfs different to any other fin. Precision Swiss engineering matched with a highly evolved template provides an unprecedented level of control and predictability at high speeds.
Almost intuitive in the way the H4 performs, when you initiate a turn, the fins will work for you by sullying speed when you need it, and then releasing at the ideal transition point.
While the science behind the template, the materials and the foils are highly complex, every component of this fin has been engineered to create a simple synergy between the fin and the surfboard, the rider and the wave.
UNIQUE TEMPLATE

Radically different side & centre fin templates create a powerful fin set with ultimate speed & drive.

SIDE FIN PROFILE: Lower section produces maximum acceleration, while hatchet like tip creates stability & control.

CENTRE FIN PROFILE: Highly raked elliptical outline reduces drag, and offers feeling of predictability when releasing through turns.

FIN FOILS TEMPLATE: Thicker base with tapered tip optimises flex & regulates the release of energy during rail to rial transitions.

Ideal Conditions

A wide range of conditions, particularly good in critical overhead waves.

Board Types

Designed to fit the FCS II Fin System.

Recommended for performance shortboards with moderate-to-low rocker.

Fin Family

Accelerator: Find Control. Speed, flow and response with added control.

SIZES

SMALL (55Kg - 70Kg / 120 - 155 Lbs)
MEDIUM (65Kg - 80Kg / 145 - 175 Lbs)
LARGE (75Kg - 90Kg / 165 - 200 Lbs)