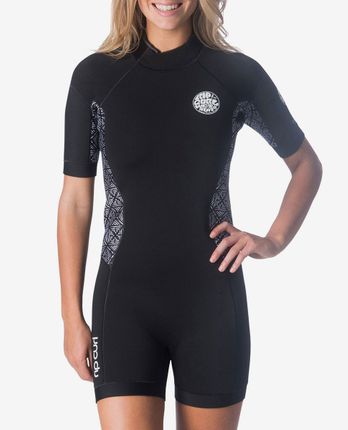 Rip Curl Wmns D/patrol S/s Spr Bk/w
Stock Code:
wsp8fw-b/w-16
or 6 weekly, interest-free payments of $26.50
What's this?
Stock Level
In Stock
In Stock
In Stock
Bulky items
You will be charged a shipping fee based on your New Zealand area postal code. There are two pricing categories; small or big bulky. The fee will be calculated in the checkout page once you have put in your postal address.
You may also like ...
Made with 100% E4 neoprene and held together with E-stitch high stretch seams, our 1mm long-sleeve, high-cut G-bomb is the perfect suit for all your needs.

Features:

100% E4 Neoprene
1mm thickness
E-stitch high stretch seams

$209.00

Made with 100% E4 neoprene and held together with E-stitch high stretch seams, our 1mm long-sleeve, high-cut G-bomb is the perfect suit for all your needs.

Features:

100% E4 Neoprene
1mm thickness
E-stitch high stretch seams

$199.00

The G-Bomb Long Sleeve Bikini Cut Springsuit is our most popular women's spring suit. Built with high-end E5 Neoprene and E-Stitch High Stretch Seams, this wetsuit is extremely comfortable and flexible. Rip Curl Bombshell Series - made for surfing, designed with style.

Features
100 % E5 Neoprene.
E-Stitch High Stretch Seams.
Strong Zip Closure.

$219.00

The Dawn Patrol L/SL Spring Suit is a great women's wetsuit for spring, made using 2mm high quality E4 neoprene and detailed with E-stitch high stretch seams, for total comfort and flexibility in the water.

$179.00

FEATURES
UltraFlex DS Neoprene 2/1mm
Back Zip
4.6.8.10.12
Flatloc
Full Coverage
Seamless Paddle Zones
Hidden Key Pocket

$189.00

FEATURES
UltraFlex DS Neoprene 2/1mm
Back Zip
4.6.8.10.12
Flatloc
Full Coverage
Seamless Paddle Zones



$189.00

The Madison L/SL Boyleg is a great women's wetsuit for spring, designed with style and made for surfing. Made using 1mm 100% E4 neoprene in beautiful stand-out patterns, detailed with E-stitch high stretch seams for total comfort and flexibility in the water.

Features

100% E4 neoprene
E-stitch high stretch seams

$229.00

The Gbomb Long Sleeve Spring High Cut is one of our most popular spring suits for ladies, designed with 1mm 100% E4 neoprene that offers an extra layer of warmth and flexibility while surfing. Part of our Bombshell Series, this suit has been designed with style and made for surfing.

Features

100% E4 Neoprene
1mm thickness
E-stitch high stretch seams

$199.00

The Patagonia womens R1 Yulex spring suit has been updated with a reformulated the Yulex® material making them lighter, stretchier and more comfortable. Made of 85% natural rubber/15% synthetic rubber by polymer content that replaces a petroleum-based material with a plant-based one, they offer the same performance attributes as conventional stretch neoprene while reducing CO2 emissions by up to ~80% in the manufacturing process. Derived from sources that are Forest Stewardship Council® certified by the Rainforest Alliance, Patagonia blend the natural rubber with chlorine-free synthetic rubber to increase ozone- and UV-resistance and meet Patagonia's rigorous standards for strength and durability. Offering full-arm warmth and sun protection in a streamlined, formfitting design, the neoprene-free R1® Lite Yulex® Long-Sleeved Spring Jane is 2mm throughout, lined with stretchy and fast-drying 100% recycled polyester; the face fabric is an 88% recycled polyester/12% spandex blend. The face fabric and lining are now solution-dyed—using 86% less water than conventional dyeing—and are laminated with water-based AquaA™ glue that's free from harmful volatile organic compounds (VOCs). The vertical front-zip entry allows easy on/off; seams are sewn with flatlock construction for next-to-skin comfort. Easy-access key loop included. Made in a Fair Trade Certified™ facility. Suggested water temperatures: 65–75° F/18–23° C.

Features

Made with neoprene-free 85% Yulex® natural rubber/15% synthetic rubber (by polymer content) that meets our rigorous standards for performance, durability, warmth and sustainability; the natural rubber is derived from sources that are Forest Stewardship Council® certified by the Rainforest Alliance; the synthetic rubber is chlorine-free
Solution-dyed, high-stretch 100% recycled polyester jersey lining throughout improves flexibility and dry time; exterior face fabric made with solution-dyed 88% recycled polyester/12% spandex is durable, stretchy and water-resistant; lining and face fabric laminated with solvent-free AquaA™ glue
Seams are sewn with flatlock construction for comfort and durability
Vertical center-front zip for easy entry
Easy-access key loop
Fair Trade Certified™ sewn
476 g (16.8 oz)

$289.00

The Patagonia womens R1 Yulex spring suit has been updated with a reformulated the Yulex® material making them lighter, stretchier and more comfortable. Made of 85% natural rubber/15% synthetic rubber by polymer content that replaces a petroleum-based material with a plant-based one, they offer the same performance attributes as conventional stretch neoprene while reducing CO2 emissions by up to ~80% in the manufacturing process. Derived from sources that are Forest Stewardship Council® certified by the Rainforest Alliance, Patagonia blend the natural rubber with chlorine-free synthetic rubber to increase ozone- and UV-resistance and meet Patagonia's rigorous standards for strength and durability. Offering full-arm warmth and sun protection in a streamlined, formfitting design, the neoprene-free R1® Lite Yulex® Long-Sleeved Spring Jane is 2mm throughout, lined with stretchy and fast-drying 100% recycled polyester; the face fabric is an 88% recycled polyester/12% spandex blend. The face fabric and lining are now solution-dyed—using 86% less water than conventional dyeing—and are laminated with water-based AquaA™ glue that's free from harmful volatile organic compounds (VOCs). The vertical front-zip entry allows easy on/off; seams are sewn with flatlock construction for next-to-skin comfort. Easy-access key loop included. Made in a Fair Trade Certified™ facility. Suggested water temperatures: 65–75° F/18–23° C.

Features
Made with neoprene-free 85% Yulex® natural rubber/15% synthetic rubber (by polymer content) that meets our rigorous standards for performance, durability, warmth and sustainability; the natural rubber is derived from sources that are Forest Stewardship Council® certified by the Rainforest Alliance; the synthetic rubber is chlorine-free
Solution-dyed, high-stretch 100% recycled polyester jersey lining throughout improves flexibility and dry time; exterior face fabric made with solution-dyed 88% recycled polyester/12% spandex is durable, stretchy and water-resistant; lining and face fabric laminated with solvent-free AquaA™ glue
Seams are sewn with flatlock construction for comfort and durability
Vertical center-front zip for easy entry
Easy-access key loop
Fair Trade Certified™ sewn
476 g (16.8 oz)

$289.00